Celebrating femininity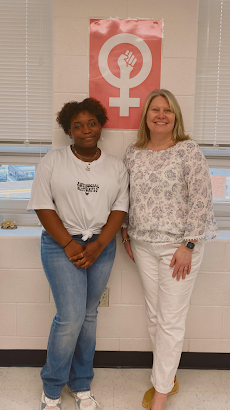 More than just recognizing the accomplishments women have achieved throughout the centuries and what they have offered to the world, Women's History Month is also a time to celebrate femininity and womanhood. 
When asked what femininity meant to freshman Erin Kang, she said, "Honestly, praising women. Recognizing them and appreciating them."
Spartans have their own individual definitions of femininity and what it means to be a woman. 
"Femininity means being kind to yourself and to those around you and being strong and standing your ground with what you believe is right in face of society," said senior Andrea McCoy.
Women's History Month is a multifaceted celebration of women, serving to recognize the women who were not celebrated for their accomplishments. As a time for reflection on the lives women have lived and continue to live, the month forms a connection between women. 
"I like the empowerment and uplifting energy that comes with Women's History Month and how women really take the time to care for themselves and appreciate other women, cisgender or not," said McCoy.
The Women's History course taught by Joanne Pendry is celebrating Women's History Month by co-sponsoring a spirit week with Girl Up and creating a Women's History periodic table poster. The periodic table can be found in the history hallway near Pendry's classroom. 
"Learning women's history makes me very proud to be a woman," said freshman Oliva Lang.
"I think [Women's History Month] is important because of all the time we wasted on not praising women and the things they did. It is important to recognize and appreciate women's contributions," said freshman Erin Kang.
While some students believe that Women's History Month is important and highlights the contributions of women, some believe that the month has its shortcomings. 
"The education system mostly skims over women and their implications in U.S. and world history," said junior Corey Sayers. 
Some students are disheartened by the fact that there needs to be a Women's History class to learn a sufficient amount about the women of history. 
"I would like women's history to be taught and praised in our normal history classes instead of having to sign up for a women's history class," said Kang.
Beyond a time of education, Women's History Month is also a time to celebrate women who have inspired people. 
"I honestly can't think of one specific woman who has inspired me, but a group: my mom, grandmother, and aunt. They all essentially raised me and have shown/taught me how to speak up for myself, stay true to myself and my beliefs," said McCoy.
"
"[Femininity is] being proud of who you are as a woman and celebrating yourself in all ways of expression."
— Teresa Andrews, senior
Senior Teresa Andrews explained that she was most inspired by her own mother, "because she is just the epitome of my family and has been taking care of me as a single parent throughout my entire life." 
Women continue to inspire one another and the month is a celebration of that notion. The month also signals a coming together of understanding and highlighting the many accomplishments and identities that women hold.