Who has a dress?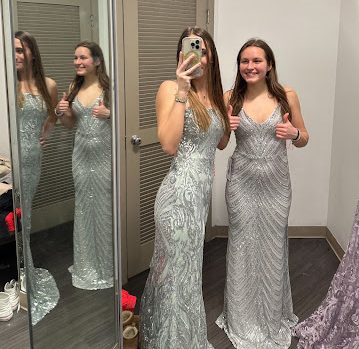 As the infamous senior prom approaches, the relentless hunt for prom dresses has started. 
Several stores, including Windsor, Meshki, and Lulus, are stocked full of different types of prom dresses, and yet seniors are still struggling to find a dress that they want to wear for the whole night. One of the most significant challenges while dress shopping, besides finding a comfortable dress that fits, is the price for these full-length gowns.
"I don't want to spend that much money on a dress I'm probably only going to wear once, so that definitely makes it harder since it limits my options," said senior Anastasiia Goi. 
Although prom dresses are targeted towards high schoolers, they vary highly in price, with some even reaching upwards of five hundred dollars. This not only restricts seniors' choices, but also adds another layer of difficulty to the prom dress shopping experience. 
Seniors also cite that the expectations revolving around prom place large amounts of pressure on them to choose a dress that matches the experience. 
"I think there is too much pressure to find the 'perfect' prom dress because, at the end of the day, prom is what you make of it," said Goi. "When you're having a fun time with your best friends, I feel like what you're wearing doesn't really matter that much."
There are alternative prom dress shopping avenues for seniors looking for an accessible dress. This includes the Free Prom Boutique, run by the nonprofit Women Giving Back, which allows students to borrow the dress for the night free of charge. Women Giving Back is committed to restoring women's self-worth by providing them with accessible clothing. Motivated by this mission, the Free Prom Boutique offers a variety of prom dresses for low-income students and students looking for cheaper alternatives. 
This alternative prom dress shopping is not only friendly for seniors' budgets but also friendly for the environment. By borrowing a prom dress rather than buying a new dress, students can help limit their environmental impact. Thrifting a prom dress is another environmentally friendly option and has become increasingly popular following the boom of thrifting spurred from social media. 
As seniors continue looking for a suitable prom dress, the discussion between prom shopping for men and women was a theme consistently brought up.
"The difference between girls and guys is that I think many, but not all, guys tend to have it easier when finding the perfect outfit. Suits don't have the same variety that dresses do and it's much easier to choose a suit," said senior Satya Velpula. "They can even wear the same black suit for homecoming or prom, and no one would realize because a black suit is a very standard outfit. I told my guy friend I still couldn't find a dress for prom, and [he said], 'can't you just wear the dress you wore for homecoming?' In my mind, I was like, 'of course not,' but that probably had not even crossed his mind because he's wearing the same suit from homecoming." 
Since men typically wear a standard black suit, the shopping experience does not have the problem of finding distinctly different dresses, but all forms of shopping can be troublesome. Finding a nice outfit that is within budget and also fits comfortably is an issue consistent throughout all forms of shopping for both men and women. 
"Women have to scour the Earth for dresses that are perfect for them and different from everyone else," said senior Annalise Thaler.