College applications 101: how to make the most out of the summer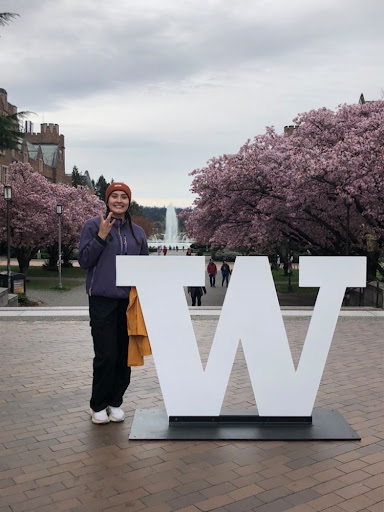 College applications are a lengthy and stressful process that encompass a student's efforts throughout their high school career and beyond. With the hecticity that comes with the school year, students can utilize their summers to get ahead of the application process.
It is beneficial to be aware of likes and dislikes when it comes to colleges over the summer, whether it be certain programs, campus size, location, or dorms. If applicants know what they're looking for, it's easier to create an organized list of colleges. 
"I think the biggest and most important thing I did was research. I was constantly on the websites for schools I was interested in and looking through their clubs, courses, and other important things about the school," said senior Neena Kirlew. "I think it's important to know what type of school you're looking for before you start applying, so that you are confident in your applications and know a lot about the schools you're applying to."
Researching and finding target schools can be especially useful when deciding whether or not to take standardized tests. For many years, standardized test scores have been a considerable part of the college admissions process. Recently, however, some colleges have dropped the requirement for students to submit test scores. Attempting standardized tests can help students realize where they fall and where to improve if they choose to submit scores.
"I would definitely utilize the summer to study for the SAT, but I also don't think resources that aren't free are worth it. I used a program called UWorld and benefited a lot from it, [and] Khan Academy is a really accessible and helpful source," said senior Alaa Elhiraika. "Overall, I would recommend taking it three times if you have a target score, however I don't think it's necessary to take it more than three times. Focus on the other aspects of your application."
College essays are arguably one of the most important parts of an application. Whether it be the personal statement or supplemental essays, admissions officers are looking out for authentic responses to their unique prompts, and watching for how applicants utilize their writing skills to portray their personalities. Though a 250-word short essay about a seemingly random question may not seem major, it has the potential to make or break a student's application.
"I think students need to remember that colleges are not necessarily looking for students to just tell them about the student. That's what students think. A lot of times I think when I talk to students, they think that the universities want to know about all the great things they've done or their grades, etc.," said AP Literature teacher Heather Hicks."But they don't really want to know that. They want to know what that student will bring to the university community. And so I think students should focus on trying to appeal to their audiences, you know, at their various universities rather than trying to just talk about their own greatness."
Students should value their classes and strive to do well in academically rigorous situations; however, it's also crucial for applicants to take action to delve deeper into their fields of interest. Whether this be in the form of unique passion projects, volunteer work, research, or club membership, showing involvement in the community as well as in an applicant's future field of study helps students stand out. 
"I had the opportunity to complete a biological research internship at the University of Kentucky College of Medicine and it was an amazing experience," said Kirlew. "My biggest tip to get into research of any type, not just STEM, is to just reach out to professors at nearby colleges. If you craft a nice and respectful email, and follow up, you might have a good shot at getting a spot in an undergraduate lab as a high schooler." 
Involvement in the community also means building strong relationships with peers, teachers, and counselors at school. Some colleges vary in how many teacher recommendations they require, but establishing bonds with supportive staff and counselors only helps to boost a student's application.
"I would recommend asking as soon as that school year starts. It's better for juniors to ask now instead of later. A list will start growing for certain teachers, so you want to make sure you know what teachers you want recommendations from before the summer," said senior Marisa Lucero.
For students who do plan on going to college, application season may seem like the be-all and end-all, but some seniors feel that there's always opportunities no matter where one gets in. 
"In the end, all the hard work you put in will pay off even if you don't get into your dream school. You just have to really hustle even though it'll get really difficult to keep going, it's always possible to fulfill your passions no matter where you end up," said Lucero. "I would say to just not get caught up on what your peers have done versus what you have done or what schools your friends have gotten into, focus on yourself."