The festival of fasting and fast-breaking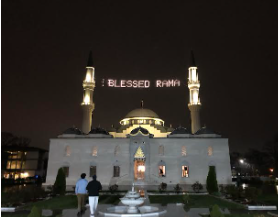 Sunset of this past Thursday, April 20, marked the end of the holy month of Ramadan for Muslims worldwide, yet started the festivities of Eid al-Fitr (Eid). Muslims at WS were brought together to commemorate their persistence and self-discipline through a three-day holiday consisting of gifts, feasts, and prayers.
Ramadan is the ninth month of the Islamic lunar calendar, also known as the most holy month of the year, where Muslims fast from sunrise to sunset for 29-30 days. Muslims must fast during Ramadan unless they are exempt.
"I love celebrating the end of Ramadan because of the feeling of becoming a better person by being closer to God and being able to indulge in Middle Eastern food again," said freshman Aydin Ali.
After fasting for an entire month from sunrise to sunset, Muslims have extravagant feasts from the moment they wake up to the moment they sleep. Millions of Muslims have a variety of traditions and feasts for Eid based on their culture, however, one thing in common with all is the coming together to praise their God.
"Usually, all Muslims, including myself, start Eid by attending a prayer at the Mosque called 'Salat Al-Eid' and then receiving an 'Eidiyah,' a gift given in the name of God to celebrate Eid, from older relatives," stated junior Abdur Raghib.
"Eidiyahs" typically comprise of money or a gift someone wants and it is given to reward and celebrate the demanding and strenuous self-discipline of fasting and giving up of things that are regarded as "haram" or impermissible.
However, Eid was not as special for Raghib due to the fact that he has celebrated Eid for many years now and he has lost excitement for the celebration.
"[Eid al-Fitr] this year was forgettable," he said.
Raghib adds that Ramadan was exceptionally special this year, which added to the somber Eid celebration. He explained that all aspects of Ramadan made it enjoyable such as reading the Quran, fasting which provided additional time for other activities, praying, and connecting with others at his mosque.
"After praying we would go outside and immediately start playing basketball with all the same people I was praying side by side, it was a brotherhood, it was a great feeling," said Raghib.
According to WS Muslim students, both celebrations of fasting and fast-breaking brought joy and connection with others and provided a reminder of God's grace.