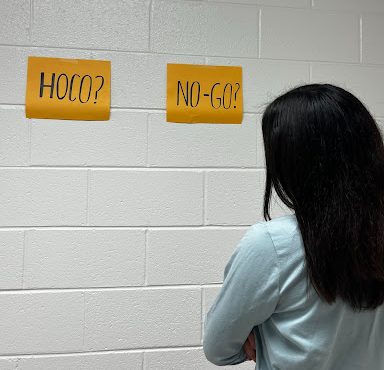 The yearly stress of the Homecoming football game and dance creates both excitement and pressure. Students face difficulty trying to navigate not only the logistics of multiple events, but also the social issues of whom to attend the events with.
Every day of Homecoming week consists of different spirit days. The long-awaited Homecoming parade, which most clubs and sports participate in, takes place after school on Friday. Followed by this event is the football game. Finally, the dance is on Saturday.
¨I don't attend the game because I have a really busy schedule usually around the time of the game and it makes it inconvenient with sports,¨ said sophomore Stephanie Latyshava.
Dances can be especially challenging to reach everyone's needs, since Homecoming is what most people look forward to coming into high school.
¨I like the spirit days and all the excitement surrounding the dance,¨ said junior Jodie Weeks.
For students attending the Homecoming dance, deciding who to attend with may be the biggest pressure.
¨I think it depends because I like going with a group of friends because that helps everyone feel included in a sense because not everyone can find a date especially since Homecoming is right in the beginning of the year and people don't really know each other too well,¨ said Weeks. ¨I think dates can be stressful, trying to fit in, stressed that you don't have anyone to go with or wanting to ask someone and afraid of them saying no.¨
Traditionally, the thought of dances were for the guy to ask a girl he is interested in to attend with him as his date. Now that friend groups have become more prominent in high schools, instead of the choice of going with one singular partner, there is also the option to go with a group of people.
¨I didn't have a date so I just went with all my friends, and it was really fun just to hangout with them for a whole night. When I picture our Homecoming, it didn't feel like a real true school dance, it was just kinda like a meetup with no people dancing,¨ said sophomore Kennedy Leary.
The concept itself of Homecoming has evolved throughout years due to disinterest in the "awkward" dance notion that has been televised and portrayed. People now find it to be more of a social gathering to meet up with friends rather than focusing on the dance. While it still remains a big event every year, the event itself is greatly outshined by the activities leading up to it.
¨There is more entertainment and chaos going on and the concessions are way better than what we get at the actual dance,¨ said Weeks.
Story continues below advertisement