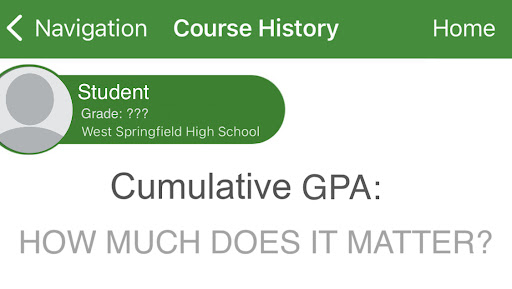 The GPA accumulated across a student's high school career can be used as an indicator of academic success, but the simplicity of a number encompassing and representing the four years of work that students endure introduces a quandary.
"Coming from parents who stress going to college, having a high GPA or high grades in general is very important to them," said sophomore Stella Sutton.
Sutton is just one such individual with expectations regarding school. These expectations can come from parents or guardians, like in Sutton's case, or a broader community at large.
"I think that our area in Northern Virginia is very unique in the sense that the school system here puts an insane amount of pressure on students from a young age," said senior Abby McKay. "I've been in this school system for basically my whole life and there's this weird phenomenon surrounding how a high GPA and taking a bunch of AP classes adds to your value as a human being."
Feeling as if a grade appearance in hand reflects the appearance of general worth has capability to drown students in worry. This turmoil leads some, such as senior James "JP" Hogan, to devalue the worth of whole systems like the GPA itself.
"GPAs are great if you're studying how people memorize things and how they can study. It is not efficient to view how someone actually understands the concept," said Hogan. "The way people learn is incredibly different […] school doesn't take any of that into account. Every student is treated the same."
The complexities and experiences of each high school attendee is unable to be recognized in a formula that simply crunches grades into a set number to express knowledge prowess. Students find it hard to be limited and practically seen only as a GPA.
Luckily, GPAs are not the only instance of merit that is taken into consideration for colleges.
"I know a lot of colleges value extracurriculars, letters of recommendation, and stuff like the SAT and ACT more than a GPA," said McKay. "There's a lot of pressure on students, especially in FCPS, to have a high GPA, but people forget that colleges look for more than just one number."
The truth is a wider range of excellence is important in high school in order to appear as a notable candidate when applying to colleges.
"
"I feel a lot better knowing that GPAs aren't as important and it doesn't stress me out as much worrying about colleges."
— Sophomore Stella Sutton
"I think showcasing yourself as an appealing applicant in college essays and commitment to specific after-school activities is important. I've done debate so I'll be able to say I'm a co-captain," said junior Colin Burdett.
Well-roundedness is a key value and taking part in skillful electives and school communities is no less remarkable compared to a high GPA.
"I want to either go into the Digital Art or Music fields to become a teacher. Obviously, I've been obsessing over my GPA like many others, but since I know colleges look for more than that, I've been working really hard to stick with my art and my music," explained McKay.
Students such as McKay get involved with electives and clubs that demonstrate a passion that they wish to pursue. The truth is, for an aspiring musician, getting a good grade in math is not as noteworthy as participating in band for four years.
"If you have a plan for what you want to do and what college you want to go to and you know that that doesn't require a super high GPA, then you don't need to stress out about it as much," said junior Charlie McClurken-Orr. "I'm not saying you can just stop going to classes and give up, but it doesn't need to be something that's causing you immense stress."
Altogether, while stress over GPA and the grades that make it up is a common concern, at a deeper look, they aren't as rigid in success-determination as one might think.
Real meaning for the future can be found in what builds up character outside of core classes. Colleges want a well-rounded person who will prosper in the campus community, not a study machine.
"It can be really hard to put yourself out there and get involved, but it is very important for colleges to see that there is more to you than having straight A's," said McKay.
Story continues below advertisement