Top tacos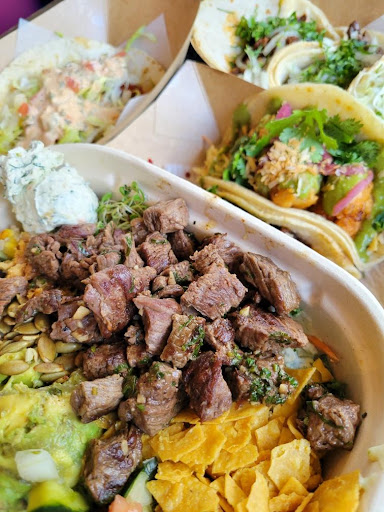 In the spirit of Cinco De Mayo, The Oracle sent reporters out to the top taco places in the vicinity of WS to determine which taco is the best. These reporters went to four restaurants: Taco Bamba, La Tingeria, Chuy's, and Tacos and Tequila. 
Taco Bamba
6691-A Backlick Rd, Springfield, VA 22152
Atmosphere – 3 of 5: In two words it was loud and louder. The central bar radiated noise that reverberated throughout the restaurant. The decor was sleek and uninteresting with the exception of a large avocado graphic dominating the right wall, leaving the food and Latin pop music to do most of the talking. There is an outside seating option next to the constantly running Chick-Fil-A drive through, and while I did not dine outside, I feel the experience would have been lost sharing my table with a Honda Civic. 
Presentation – 1 of 5: To score this there must be an effort, but here there was nothing. Your tacos are served on paper plates with no clever design. The tacos failed to entice me, but since they did not scare me, I gave them one point.
Handling – 4 of 5: Each of the tacos was small, compact, and easy to hold. Each taco had two tortillas and never broke on me. I found with the chorizo taco that I had inadvertently recreated the Gulf of Mexico in red and orange grease, and while grease is expected, this drippage was unprecedented. Each bite could be likened to a Clint Eastwood shootout with water pistols, the taco being the pistol.
Sides – 5 of 5: My tacos came with nothing, so make sure to add your desired side to your order. I asked for queso and chips, and got queso and chips. The portion was perfect for one, and the nacho cheese dip had just enough spice to be interesting, but not enough to take away from the tacos flavor. 
Service – 4 of 5: Ask and ye shall receive, the food was done in ten minutes with no issues. During our meal I was checked on once and that was that. Nothing remarkable, but no negatives either.
Taste –  3 of 5: The biggest obstacle in this review is the inconsistency. The cod was perfectly cooked and the batter was crispy and flavorful with the taco spice we all love, the carne asada was bland and tough as if I was biting directly from the cow, and while the chorizo shined in its iconic flavors it was simultaneously swimming in its own Rio Grande of grease. The fish did the heavy lifting, but I had an overall positive experience. Complimentary to the contents was the tortilla, which was so immersively dry it transported my mind to the Chihuahuan Desert. Despite the quality, a major positive was the amount of protein. Taco Bamba did not skimp on the meats and you will not be left with a taco that primarily consists of slaw and sauce.
Overall – 20/30: Taco Bamba has the potential to fill your desires for Mexican cuisine but its inconsistent quality across its menu makes it a risk. The cost was $20 for three tacos and a bottled drink, and the restaurant is a walk across the street from a Cold Stone Creamery should you need a dessert to wrap things up. Overall the trouble in the tacos was inconsistent, but I left with a smile and a satisfied stomach so give it a shot and make your choice.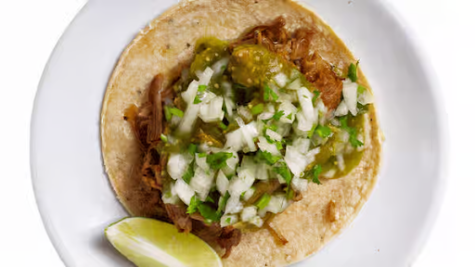 La Tingeria
626 S Washington St, Falls Church, VA 22046
Atmosphere – 3 of 5: La Tingeria is a small Mexican restaurant in Falls Church, Virginia. The compact setup, traditional Mexican music, and emphasis on the colors red, green, and white in the decorations create a chill vibe and give consumers an insight into Mexican culture. 
Presentation – 2 of 5: The tacos were served flat, with the tortilla below the chosen proteins and additional vegetables on top. The taco is enticing but looks small and doesn't contain as much as I would hope it does.
Handling – 4/5: The taco has to be wrapped up. However, because of its size, it is easy to handle and the ingredients will stay inside the tortilla. 
Sides – 4 of 5: The consommè adds to the taste of the taco. However, the best side at La Tingeria by far is the elote. The mix of sweet and salty tastes perfectly complement the savoriness of the ingredients inside the taco.
Service – 5 of 5: I went to La Tingeria at 8:00 PM. The meal arrived in about 15 minutes and the staff were friendly. Most people order takeout from this restaurant, so consumers who dine-in at this time will be amply attended to. 
Taste – 3 of 5: When it comes to taste, the make or break is the chosen protein. Personally, I believe that the best choices are the birria beef and birria goat for their savoriness. The taco's taste is also exemplified by the tortilla itself and an additional consommè.
Overall – 21/30: Although the tacos are small, the savoriness of the proteins and the easily-handleable tortillas make these bite-sized tacos pack a real punch. In combination with the great service, La Tingeria is a decent choice for people who want to dip their feet into Mexican culture. 
Chuy's Restaurant 
6793 Springfield Mall, Springfield, VA 22150
Atmosphere – 5 of 5: When you walk into the door you will feel like you're greeted with bright colors, portraits and uplifting music. This is a family restaurant with casual dining offered to any age group.
Presentation – 5 of 5: Clean and organized with the toppings divided equally across the plate. Beyond that the presentation of the restaurant is clean and traditional. 
Handling – 5 of 5: Easy to handle the medium size of the taco, with the ability to change how much of certain components of the taco you want on it. This is good if you don't like certain things or are allergic to certain topics. 
Sides – 4/5: I didn't order any sides but they did give nachos with salsa and cheese, which were warm and fresh but wasn't too much to really enjoy it. 
Service – 5/5:  The service was elite. All the waiters and waitresses were friendly, refilling drinks and asking if everything was good. Overall my experience was excellent if you're looking for casual dining with family, this is a place to try. 
Taste – 5 of 5:  The chicken was tender, nicely seasoned and all very fresh with a large portion and still had left over to bring home. 
Overall – 29/30: After looking over everything I think it's a great place for family to come together and grab a nice meal. There wasn't any negative I could find and I plan on going again.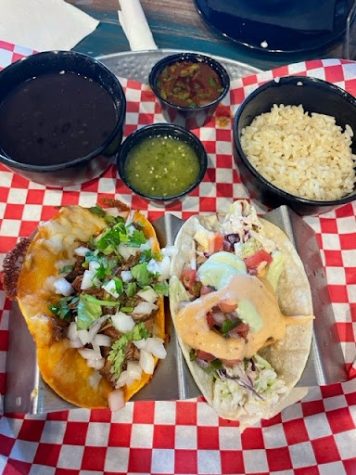 Local's Tacos & Tequila
8326 Old Keene: Mill Road, Springfield, VA 22152
Atmosphere – 5 of 5: Colorful and lively. A lot of dios de los muertos decor. Spacious indoor seating and an outdoor option. Music was noticeable but not a focus. There was a lot to look at, and I didn't hate it. I enjoyed the colorful calavera and large artistic chalkboard menu covering one wall. 
Presentation – 4 of 5:  Standard. I ordered the Choose 2 plate, and it came with beans, rice, and salsa verde. I ordered the Local's Signature Taco: Birria and the California Fish Taco. The birria's corn tortilla was fried, so crispy and delicious, and topped with onions, cilantro, and Oaxaca cheese. I found dipping the birria in the consomme to be messy and skipped that step. The fish taco was fresh, with cilantro lime slaw, chipotle aioli, pico de gallo, and avocado crema. 
Handling – 5 of 5: Birria was "drippy" (expected with the consomme) but the fried tortilla helped. The fish taco had a good ratio of protein to toppings. The "taco tray" that props each taco up helped keep things in place. 
Sides – 4 of 5: The sides, black beans and rice, were afterthoughts on the combo plate. They tasted fine, but I'd suggest skipping the combo plate option and filling up on chips and queso instead. I did order a second helping of the queso in order to finish off the chips. If I over dipped, I don't regret it. 
Service – 4 of 5: Service was timely and friendly. The restaurant was moderately busy and appropriately staffed. I was not offered a soda refill, however, and wished I had been. 
Taste – 4 of 5: Both tacos offered a hearty volume of protein, and each was full-flavored. I personally preferred the fish taco. Neither was spicy, but they weren't supposed to be. My dining partner ordered three different tacos and enjoyed all of them as well. 
Overall – 26 of 30: Large variety of good-tasting tacos, both traditional and unconventional. Fun atmosphere and convenient location to WS. Moderately expensive once you account for tipping your server.